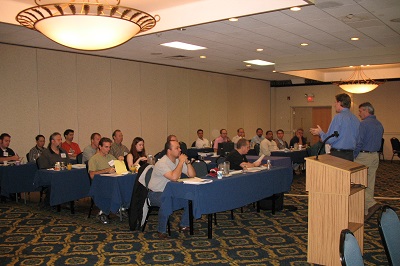 Learn how to get the most out of your APEX SL Vibration Control & Analysis System by attending our three day training seminar. Reservations are being accepted for the next session, dates to be announced soon.
Courses are held in a classroom setting at our world headquarters in Wallingford, Connecticut. Access to control systems and shakers will be available where instructors demonstrate specific operational and performance features. Training is normally held twice a year and is scheduled through the planning coordinator at the Unholtz-Dickie factory.
Please contact Training Coordinator at (203) 265-3929 to reserve a seat and for further information.
Please note: Space is limited and will be accepted on a space availability basis. The registration fee is $1,000 per person, and includes morning break, lunch, and workshop materials. You will be responsible for your travel and lodging expenses. Registration payment can be made by purchase order, MasterCard or Visa.
Download the Registration Form
Here is what some recent students had to say about the Training Course:
"I would like to thank you all for your thorough, clear presentation of quality material by expert practitioners who are obviously dedicated first and foremost to the success of their students!"
"I just completed the training and it was well worth the cost. I would recommend this course to anyone using the APEX SL product."
"We were impressed with the thoroughness and knowledge of everyone involved in the training."
"Everyone within your organization seems truly dedicated to helping the customer get the most from your products."
---