Transducer Calibration System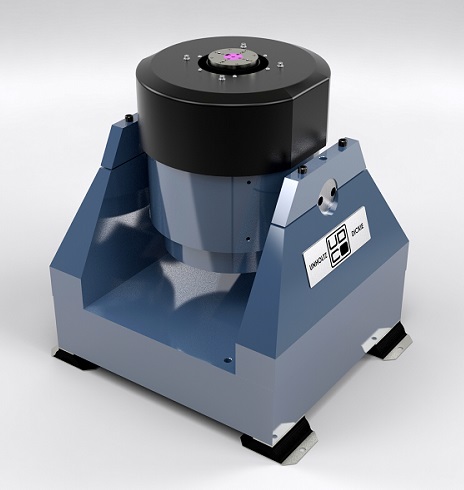 Unholtz-Dickie Transducer Calibration Systems have earned their place in industry as the standard for calibrating accelerometers and velocity transducers. The Model 680C is UD's latest generation of an automated transducer calibration system, utilizing the expanded features of the i5 based APEX SL-C Windows vibration control system.
The Model 680C Calibration System offers a large 3.25 inch (83 mm) table and expanded performance envelope for high force, displacement and load capability. It is configured with the Model TA100CL-S032-C amplifier and shaker.
The Model 680C is a complete system and includes everything needed to calibrate accelerometers and velocity transducers, including the S032-C Calibration Shaker, Power Amplifier with integrated Field Power Supply, Cooling Fan, TSC-3 transducer signal conditioner, and 8B6 Lab and Working standard accelerometers and respective mounting hardware. The 680C is critical for satisfying ISO9000 test requirements of vibration transducers.
For U.S. NAVY applications UD supplies the Model 680 Transducer Calibration System. This is a customized version of the 680C with added features specific to the NAVY requirements.
Download Transducer Calibrator Bulletin
Calibration Certificates
Select the links below to view sample Calibration Certificates generated by the APEX SL-C calibration software. Note that custom certificates are available.
APEX SL Transducer Controller Provides:
Fast computer-controlled calibration of accelerometers and velocity transducers
Simple setup and definition
Precise shaker control
Reference & test transducer measurement
Large data storage
Automatic certification report
Back-to-back accelerometer calibration method using NIST standard reference accelerometer
Precision sinusoidal comparison technique
Logarithmic sweep or stepped-frequency sine
Wide frequency range of 2 to 10,000 Hz
Wide acceleration range (0.1 to 75 g) with working standard and test accelerometer mounted
Large mounting surface 3.25 inch (82.5 mm) diameter armature
High velocity to 50 in/sec (1.3 m/sec)
Accelerometer sensitivity 0.1 to 5,000 pc/g or mv/g
Velocity transducer sensitivity 0.2 to 5,000 mv - sec/in
Ceramic insert provides excellent stiffness, back-to-back mounting, rigid coupling to table, electrical isolation, and protection of working standard accelerometer
Graphical spectrum display of sensitivity, deviation, control, reference and phase
Tabular listing of selectable frequencies, sensitivities, and deviation
Air-cooled power amplifier and shaker
Heavy-duty pedestal base
TSC-3 Transducer Signal Conditioner
The Transducer Signal Conditioner includes circuitry for conditioning and amplification of the reference charge channel, and also transducer channels for charge, voltage and velocity transducers. Channel flatness and gain characteristics are factory adjusted.
System Features
System Model
Model 680C
Sine Force
100 lbf (445 N) with std blower
150 lbf (677 N) with Optional Blower
Frequency Range
2 to 10,000 Hz accelerometers
5 to 5,000 Hz velocity transducers
Maximum Acceleration
50 g pk to 10,000 Hz, w/ std blower
75 g pk to 10,000 Hz, w/ optional blower
Maximum Velocity (pk)
50 in/sec (1.3 m/sec) max
25 to 60 Hz, 50 in/sec (1.3 m/sec)
Displacement (pk-pk)
0.75 inch (19 mm)
Moving Weight w/o DUT
2.0 lbs (0.91 kg) armature with integral 8B6 reference accelerometer & ceramic coupler
Armature Diameter
3.25 inch (83 mm)
Armature Resonance (fn)
8.2 kHz typical
Amplifier Model (output)
TA100CL (1.5 KVA)
Stray Gauss Level
< 5 gauss @ 1.0 inch above table
Total Harmonic Distortion
@ 50 g:
< 1.5%, 100 Hz to 10 kHz
(except < 5% at sub-harmonics of armature resonance)

< 0.5%, Typical 300 - 2,000 Hz

@ 2 g:
Typically < 1% to 10 kHz
(except typically < 5% at sub-harmonics of armature resonance)
< 5% Max @ 10 Hz (w/ Std Blower)

Typically < 1.0% 50 Hz to 10 kHz
(except < 2% at sub-harmonics of armature resonance)

< 5% max @ 10 to 50 Hz 9 w/ std blower
Cross Axis Response
@ 10 g:
< 6% (typ 2.5%), 20 Hz to 4 kHz
< 10%, 4 kHz to 10 kHz
(Except for isolated peaks of 20%)
Hum & Noise
0.03 g rms
Precision of Frequency Setting
0.1% (typ. 0.03%) of Test Frequency in Stepped Mode
Estimated total System Uncertainty includes Absolute Uncertainty of Lab Standard NIST Calibration and Transfer Uncertainty of DUT
+/- 1.2% 10 Hz to 2 kHz

+/- 2.1% 2 kHz to 4 kHz

+/- 2.4% rising to +/- 3.3% 4 kHz to 10 kHz
Safety Protection
Shaker over travel limit switch

Shaker cooling air switch

Protective seals and screen on shaker
Electrical Requirements
480 V AC
3 phase , 60 Hz (Standard)
120 V AC
1 phase , 60 Hz (Standard)

380 V AC
3 phase , 50 Hz (Optional)
220 V AC
1 phase , 50 Hz (Optional)
Cooling
100% air-cooled
Floor Isolation
Standard isomode pads
< 20 Hz

Optional air bag base
< 12 Hz