Model 8B6 Piezoelectric Accelerometer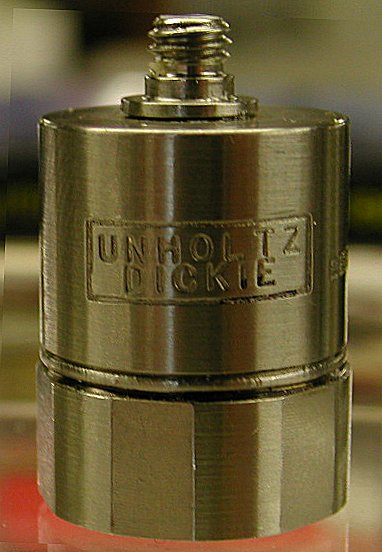 Very stable sensitivity
Use as reference accelerometer
Temp. range -300º F to +500º F
Low base and case strain sensitivity
Flat charge sensitivity vs frequency
Flat charge sensitivity vs temperature
Mounted resonant frequency 30 kHz
Used as lab and working standard accelerometer with APEX SL-C Transducer Calibration System
The Model 8B6 accelerometer features a flat charge vs. frequency response as well as minimum charge sensitivity variation over a wide range of temperatures. The accelerometer design is a single-ended compression type with a double base construction to minimize base strain sensitivity. The Bismuth Titanate (PZ46) ceramic provides excellent sensitivity stability as well as flat temperature response.
Download Instrumentation Bulletins
Dynamic Performance
Charge sensitivity: 8.6 pC/g, ±30% (0.88 pC/m/s2)
Accelerometer capacitance: 1,500 pF typical at 160 Hz.
Mounted resonant frequency: 30,000 Hz. typical
Transverse sensitivity: 3% max at 160 Hz. in any direction, 1% typical
Accelerometer resistance: 20 megaohms min at 75º F, 500 megaohms min at 500º F
Frequency Max Deviation from Reference: 2Hz: 5%, 10Hz: 2%, 160Hz: REF, 1kHz: 2%, 5kHz: 5%, 7kHz: 7%, 10kHz: 15%
Amplitude linearity: within 2% of best straight line (2000 g range)
Specifications
Mechanical
Design Type: Single-ended Compression Mode, mounted on a double base
Piezoelectric Ceramic: High Temperature Piezo-Ceramic, Bismuth Titanate (PZ46)
Top Output Connector: 10-32 NF Coax socket, mates with Microdot connector
Dimensions: 0.72" hex, .90" height plus connector
Weight: 1.3 oz (35 gm)
Mounting: 10-32 internal thread, .150 inch deep
Case: Type 316 stainless steel, Center Post Molybdenum
Accessories: 10 ft Microdot low noise cable (3808-10) and 10-32 x 3/8 stud
Environmental
Dynamic Range: 1000 g sinusoidal, 2000 g shock
Temperature Range: ±5%, -300ºF to +500ºF (-185ºC to 260ºC), Curie Temp 650ºC
Base Strain Sensitivity: Equivalent .05g/µinch/inch strain, typical per ISA RP37.2
Seal: True hermetic seal, grade A, with welded and glass-to-metal bonds
Thermal Shock Sensitivity for 10°F Step Input: Equivalent 0.2g/°F, typical with 2 Hz. high pass filter.
Acoustic Sensitivity: 0.1 g rms @ 100 dB broadband, typical
Altitude: Not affected
Calibration of each accelerometer is accomplished by comparison to a NIST traceable reference. Using a UD Model APEX SL-C Digital Calibration Control System, a continuous calibration curve is plotted from 10-10,000 Hz., showing percent deviation of charge sensitivity as compared to the sensitivity measured at the 160 Hz. reference frequency.