CVA Signal Conditioners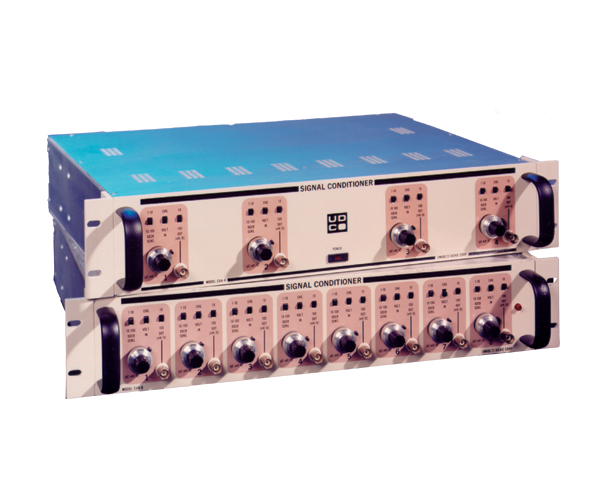 4 (CVA-4) or 8 (CVA-8) channels
Operates with piezo accelerometers, remote charge pre-amps and self-amplified accelerometers
Switchable 10, 100 mV/g (or mV/U) output for controllers
Three pole low-pass filtering
Dial-A-Gain input sensitivity normalization
Buffered monitor outputs on front panel
Low cost per channel
The models CVA-4 and CVA-8 are designed to be a low-cost accessory for the APEX SL Windows-based vibration control workstation. They provide either 4 or 8 channels of conditioned acceleration signals for the control or measurement inputs of the Windows-based vibration control workstation or other vibration controllers.
Download Instrumentation Bulletins
Specifications
General
4 or 8 channels of signal conditioning with separately regulated power supplies for each charge amplifier. Common signal references for all channels.
Inputs
Charge Input: Any single-ended piezoelectric transducer with shunt resistance greater than 10 megohms - Source capacitance of 50 nF causes less than 0.1% gain change - Max. input 13,000 pC (1-10 pC/g); 130,000 pC (10-100 pC/g).
Voltage Input: Coaxial connection to a remote pre-amp/self-amplified accelerometer. Constant current internally adjustable from 2 to 6 mA - 24 VDC compliance voltage.
Charge Calibration: Provides a series 1,000 pF ± 1/2% capacitor for connection to any charge input.
Voltage Calibration: Provides decoupling of the DC current from the external calibration signal source after connection to any voltage input.
Outputs
Rear Panel: BNC output connector ± 10 V pk at 10 mA total current. Switch selection of 10 or 100 mV/g sensitivity.
Front Panel: BNC output connector with same characteristics as rear panel connector - buffered from rear panel connector and short-circuit protected.
Input Sensitivity Normalization
Provided by a range switch (10 or 100 mV-pC/g max) and a precision 10 turn dial for two ranges: 1-10 pc-mV/g and 10-100 pC-mV/g (actually 0.3 to 10.3 and 3 to 103 pC-mV/g).
Noise
.005 pC rms + .0015 pC/1nF source capacitance RTI plus 0.1 mV p-p RTO with 5 kHz LPF.
Front Panel Controls
Input sensitivity range (10 max, 100 max)
Input sensitivity vernier (0.03 to 1.03 times max value) - 10 turn precision potentiometer and dial
Input selector (charge or voltage)
Output sensitivity (10, 100 mV/g)
Buffered output (isolated BNC)
Rear Panel Controls/Connectors
Charge input (isolated 10-32 miniature coax)
Voltage input (isolated BNC)
Output (isolated BNC)
Int-ext ground switch
Line voltage selector switch (115/230V)
Charge and voltage calibration connectors
Physical
Standard Unit Power: 105-125/210-250 VAC; 50/60 Hz, 8 VA (CVA-4), 12 VA (CVA-8)
Standard Unit Dimensions: 17"W x 3.4"H x 13"D with brackets suitable for mounting in a standard 19 inch rack.
Frequency Response: A three-pole Butterworth filter determines the high frequency response. The frequency (fu) is typically chosen to be 3 kHz, but may be customer specified at 1, 2, 5, or 10 kHz.