Hybrid Slip Table Assemblies (HST)
UD's HST Series features a highly damped, rigid reinforced concrete-filled base, permanent positive mechanical alignment, and our exclusive Integrated Guidance and Isolation System (IGIS).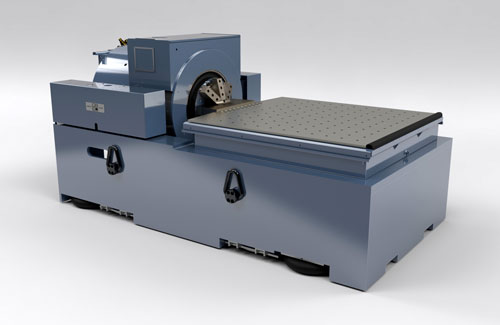 Key Features
Conversion from horizontal to vertical in 20 minutes
Air bags for use on standard factory concrete flooring
Multiple-guidance bearing options to restrain off-axis slip plate motion
"Oil Guard" protection offers cleaner operation, less maintenance and higher reliability
Thermal interface protection available for combined vibration and temperature testing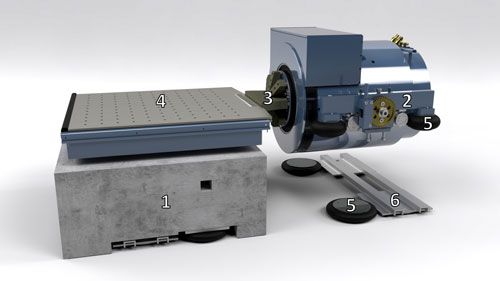 Critical Design Features
Concrete reinforced base
IGIS isolation at trunnions
Cast magnesium driver bar
Magnesium slip plate
Air bag vibration isolation
Air slide (optional)
Heavy Duty Reinforced Steel / Concrete-Filled Base
The HST design utilizes a structural steel base with cross-bracing and stiffeners which provide a rigid platform for positive alignment between the shaker and slip table. Reinforced concrete is added to the base's shell cavity, creating a robust and highly damped reaction mass which comprise a rigid alignment platform to support the shaker and granite table.
Shaker Body Isolation and Guidance in Vertical / Horizontal Axis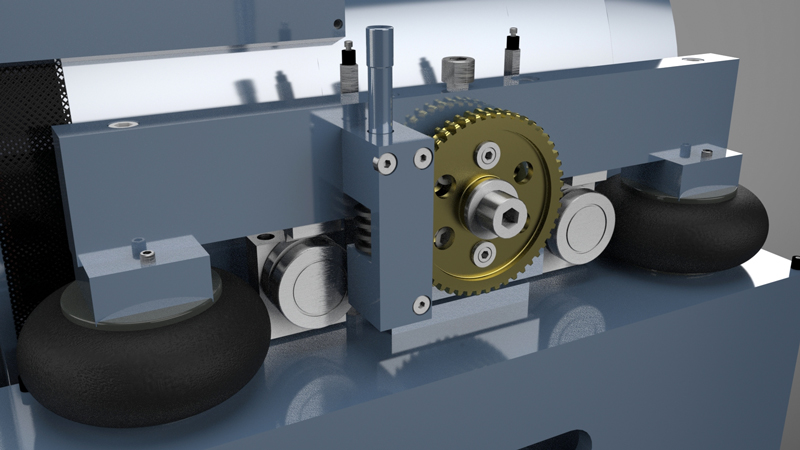 The Integrated Guidance and Isolation System (IGIS) includes damped air mounts that automatically lift and support the shaker body during vertical operation, providing effective vibration isolation for 5 Hz testing. During conversion to horizontal mode operation, air pressure in the mounts is reduced automatically, positioning the shaker body on guidance elements that maintain linear movement along the thrust axis, effectively decoupling the shaker. Floor airbags are included that provide complete isolation when running in the horizontal direction, especially for heavy payloads.
Permanent Factory Alignment
Alignment of the shaker and Slip Table is performed at the UD factory, to establish a permanent, easily converted vertical-to-horizontal changeover procedure. No feeler gage checks or tedious mechanical adjustments are required throughout the life of the machine.
Worm Gear Rotation
For convenience and safety, UD HST bases include a high ratio worm gear drive assembly for easy shaker rotation. A half-inch ratchet drive is provided to allow simple, safe, one-man operation.
Cast Magnesium Driver Bar
Unholtz-Dickie supplies cast magnesium driver bars to join the shaker armature and slip plate. Cast driver bars are superior to welded driver bars by eliminating inherent weaknesses such as poor weld penetration, root cracks, and heat warpage. The UD Driver Bar's "spider" mounting pattern utilizes all available armature inserts to provide a robust connection with maximum transmissibility between the shaker and the slip plate.
Compression-Step Interface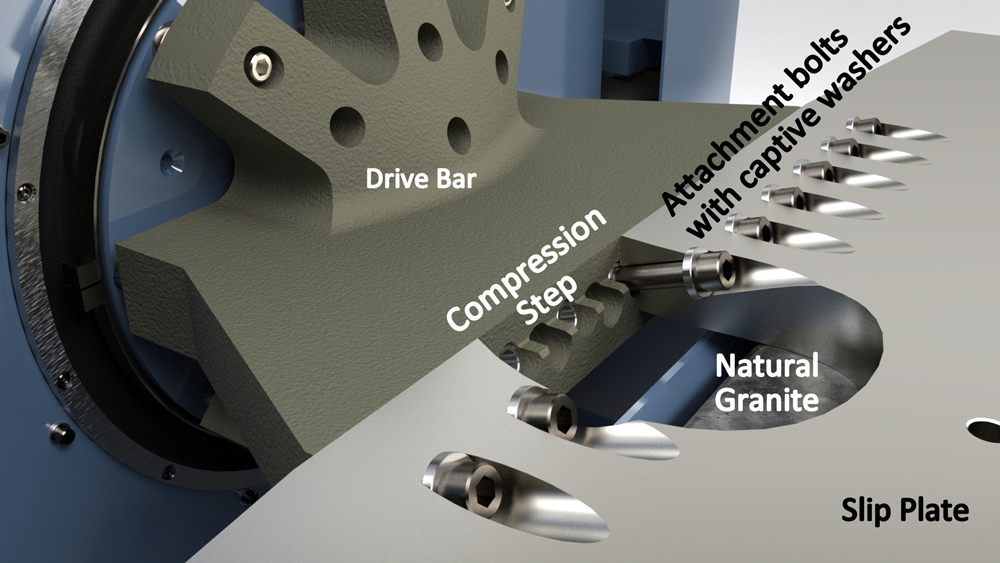 UD's innovative Compression-Step Joint provides a rigid drive interface which transfers force from the armature to the slip plate. All attachment bolts are angled at 20° above horizontal to create pre-compression across a broad mating surface area. Operators appreciate this "all bolts on top" design which is a key ingredient in the typical 20 minute conversion between vertical and Horizontal operation.
Natural Granite Support Table
Unholtz-Dickie uses only natural granite as the table support material. The thick granite slab transfers its mechanical stiffness to the magnesium slip plate through adhesion of the oil film acting over the entire surface area. Some competitors substitute lower cost "synthetic" granite for table support, which can exhibit chipping and peeling as test hours are accumulated, leading to possible slip plate scoring and waveform distortion. Natural granite eliminates these problems.
Guided Oil Film Table
The standard Guided Oil Film Table utilizes a center-groove element to support and guide the magnesium slip plate. Oil is dispersed through multiple ports in the granite slab by a low pressure, closed-loop pumping system. The lubricated granite provides a low friction slip surface for horizontal motion of the magnesium plate, with inherent pitch & roll restraint derived from oil film adhesion. Yaw restraint is controlled by a centerline guide element at the outboard end of the slip plate, and is supplemented by the shaker armature guidance system. These standard features provide cost-effective horizontal axis operation to meet most general purpose testing applications.
Linear Guide Bearings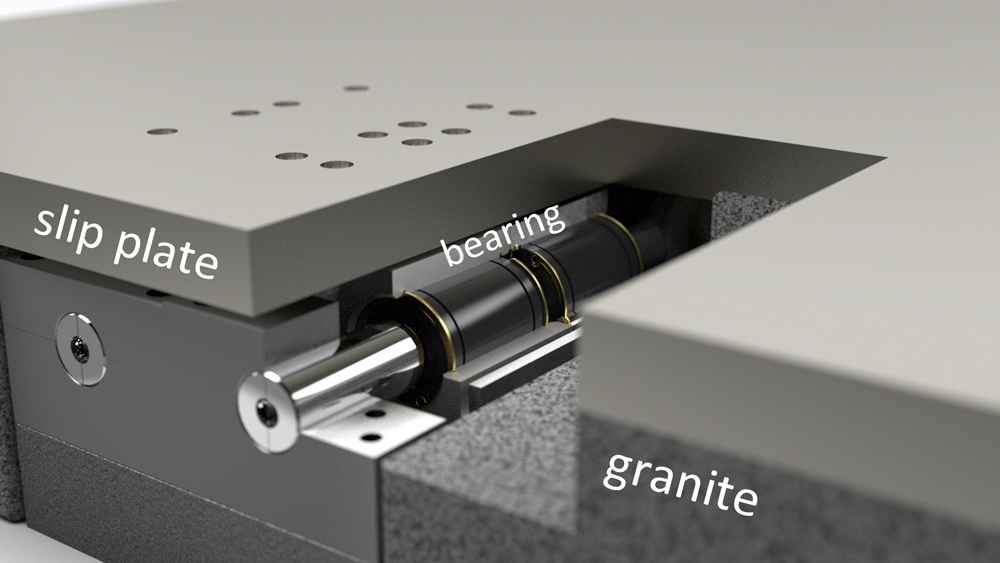 For horizontal tests that require higher off-axis restraint, HST Slip Tables can be equipped with Linear Bearings. These bearings are installed in cavities within the lubricated granite block but receive independent oil porting. The robust bearings are configured in tandem, on or alongside the centerline and are widely spaced front-to-rear for maximum pitch and yaw restraint. This location minimizes the risk of binding during combined environment (temp/vibe) testing, a common problem with Hydrostatic Bearing Tables. Two, four and eight bearing (-2LB, -4LB and -8LB) configurations are available, covering a wide range of payload and test level applications.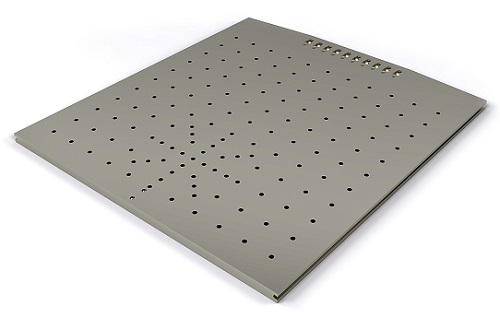 Slip Plate Inserts
All UD slip plates include the armature insert pattern (radial) plus a 4x4 inch (100 x 100 mm) grid pattern of threaded inserts as standard (see diagram). Standard slip plate dimensions and weights are listed in the tables provided. Custom slip plate sizes, metric inserts and other patterns are also available (consult factory).
Combined Environment Testing
HST Series slip tables can be used for room ambient vibration testing and for combined environment testing: temperature + vibration and temperature/humidity + vibration. The HST hardware can be integrated with environmental chambers from all leading suppliers, with integration kits offered for both the vertical and horizontal test modes.
Multiple Slip Plates
Optional dual slip plate designs are available, allowing users to quickly change plates to accommodate various payload sizes and/or test amplitudes. Larger plates are typically used for medium to large package sizes at low to moderate test amplitudes, while a smaller plate with reduced mass can be used for testing small test items to extreme SRS or random test amplitudes. When using the smaller plate, covers are provided and are installed over the exposed granite/oil pan (as seen in photo).
| | |
| --- | --- |
| T2000 shaker with large 48"x48" slip plate installed | Same shaker with smaller 28"x28" plate |