Structure Guided Head Expanders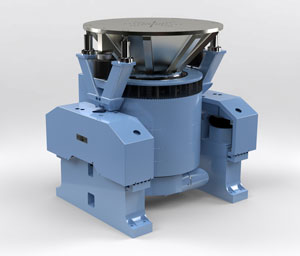 To test large, heavy packages, the Guided Head Expanders provide additional restraints and load support to handle tough transportation and other challenging test profiles.
Four rigid linear bearings or shear mounts provide guidance for tall or offset loads.
Airmounts located under the head expander automatically center large payloads when connected to the existing Auto-Centering system. Load support available for up to 12,000 lbs (5,450 kg).
Allows testing of large payloads while maintaining reliability of shaker armature suspension.
Can be easily removed to allow shaker rotation for use with a slip table assembly.
Special support structures for various shaker bases available to accommodate additional suspension restraints.
Structure Guided Head Expanders (custom sizes available)
Model
Expander Size
Armature Size
inches (mm)
inches (mm) dia.
HEG12-30R
31.5 (800) dia.
12 (305)
HEG16-30R
31.5 (800) dia.
16 (406)
HEG12-2424
24 x 24 (610 x 610)
12 (305)
HEG16-7236
72 x 36 (1828 x 914)
16 (406)
HEG24-6060-20
60 x 60 (1524 x 1524)
24 (610)
HEG16-7272
72 x 72 (1828 x 1828)
16 (406)