6X Thruster Systems

The SA15-6X-S is regarded as an industry standard Long Stroke Thruster Test System. It is widely regarded as the workhorse for production testing of automotive AIRBAG sensors by leading suppliers of automotive airbags and associative control modules. The SA15-6X-S was designed to produce highly accurate and repeatable acceleration pulses in the horizontal plane; pulses such as classical haversine and half sine waveforms, and for simulating actual crash waveforms imported as ASCII amplitude/time history or as a transient capture. The long stroke capability and powerful SA Series power amplifier can reproduce crash waveforms with velocity changes up to 17 MPH.
Features
3,000 lbs (13.3 kN) force
300 in/sec (17 MPH) velocity change
6 inch (153 mm) stroke
150g, 10 msec haversine with 4 lb payload
Bearing guided slider
High-efficiency SA Series Class D amplifier
Ultra-rugged, reliable Silicon Carbide (SiC) MOSFET Technology
All air-cooled system
SA-Command Link APEX / amplifier remote interface
Air-Cooled
Both the 6X-S Series thruster and the SA Series power amplifier are air-cooled, an important feature that boosts reliability and reduces the cost of installation and operation and minimizes floor space requirements.
Rugged, Lightweight Armature and Slider
The 6X-S was designed for reliable and repetitive high acceleration pulse applications and features a high strength aluminum alloy armature and a rugged bearing guided slider assembly for mounting the test specimen and fixture. The standard slider size is 3.5 x 11 inches (203 x 609 mm). An optional 8 x 24 inch (203 x 609 mm) is available for testing larger or multiple items.
Isolated Supporting Base
The 6X-S Thruster is mounted on a large steel base structure designed to allow easy access to the slider for production applications, as well as, shock isolation from the surrounding facility.
Industry Applications
Operating in companies throughout the world, Unholtz-Dickie's 6X-S Thrusters dominate the field of airbag shock test systems providing unmatched performance and waveform accuracy. Applications vary, with some systems operated manually, while other systems have been successfully integrated into automated production lines running 3 shifts a day, 7 days a week. When combined with the Apex Series Vibration and Shock Controller, many different types of shock pulses can be produced with great accuracy and fast repetition rate. A special remote interface is also available for automated control. Through this interface, specific test types can be selected and run. The Apex SL and Apex PRO can be used to reproduce the following shock waveforms:
Half Sine
Sawtooth
Trapezoid
Haversine
Capture Crash Pulse
User Defined (Import ASCII)
A complement of signal conditioners and accelerometers specifically designed for shock applications is available to provide optimal performance for low frequency shock applications.
Figure 1: Typical Haversine test waveform used for airbag sensor testing (35 ms, 12 miles per hour). The graph below provides graphical information on the associated Velocity and Acceleration waveforms. Pre and post compensation pulses are included for displacement and velocity optimization. Coast times are selectable.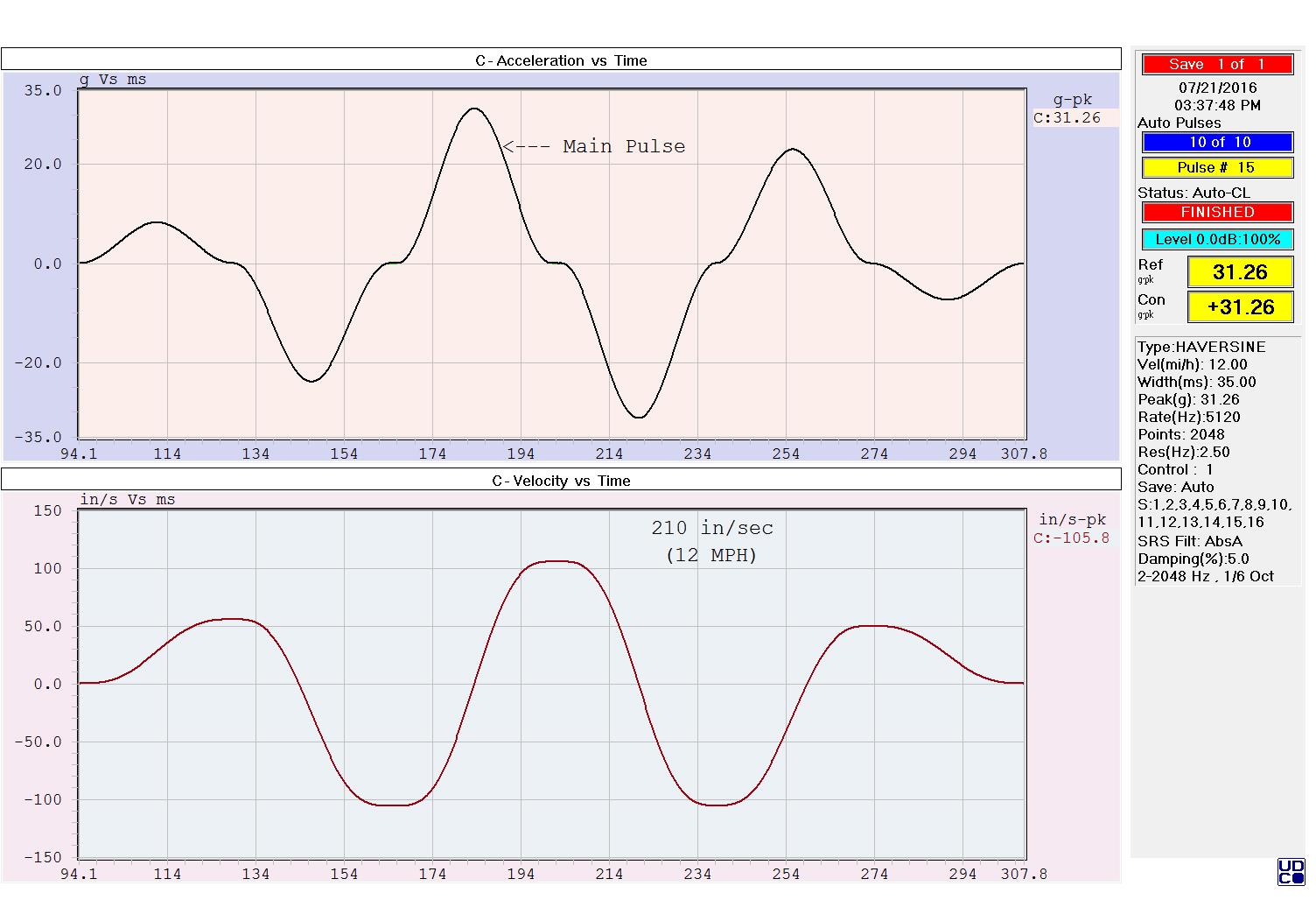 Figure 2: An actual captured crash waveform is used as a reference test pulse. The top window depicts the velocity waveform; the bottom depicts the acceleration waveform. Other pertinent graphical information can be displayed as needed including: input control & response measurements, % deviation, and drive output. Separate pre and post compensation pulses can be selected. The waveform shows a zero pre pulse and a single braking, or post pulse.