SA-Command Link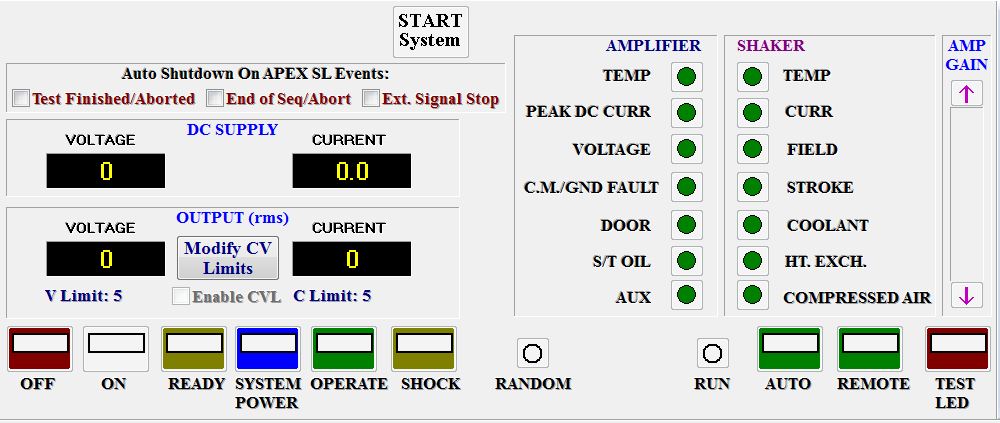 The APEX Series Controllers offer an optional RS232 Amplifier/Shaker interface and a software command/status panel to operate UD's newly enhanced SA and SAI Series amplifier/shaker systems. The SA-Command Link provides identical functionality as the standard SA Amplifier front panel switch buttons, LED status indicators and current/voltage meters. In addition, it provides a Power Save selection to automatically power down the UD SAI Amplifier/Shaker system after a test has finished or aborted, and current / voltage limits can be set to abort the test for added system / specimen protection. Now the complete UD test system can be initiated, monitored, and controlled from one convenient location.
Amplifier / Shaker Startup
System command functions:

Off
On
Ready
System Power
Operate
Amp Gain Up/Down

Single button startup
System fault resets
Automated "startup" from external input (i.e. temperature chamber) from the Apex Remote Interface
System mode indicators
Current/voltage limits
Power Save Mode
Automatically power down SA Series amplifier/shaker after a test has aborted or finished.
Amplifier Indicators
Overtemperature, peak current limit, voltage limit, CM fault, door interlocks
Output current & voltage meter
DC supply current & voltage meter
Amplifier gain indicator
Shaker Indicators
Overtemperature, current limit, overstroke
Field power, coolant, ST oil, heat exchanger faults