Apex Series Hardware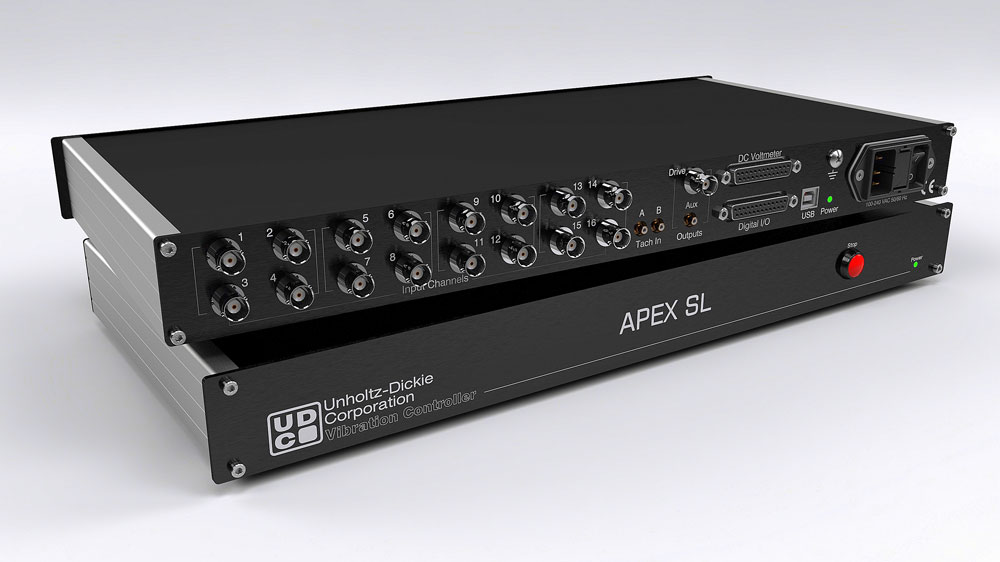 APEX SL and APEX PRO advanced architecture incorporates multiple digital signal processors from ADI. The versatile and proven SHARC and Blackfin processors are the industry standard for high performance and power efficiency. This powerful control system hardware set is used exclusively for control loop processing and host communication, assuring accurate real-time control and simultaneous data acquisition, while all graphics related processing is reserved for the host computer's multi-core processor.
Performance
APEX digital signal processing hardware provides parallel 24 bit A/D input channels with sampling rates up to 102.4 kHz and anti-aliasing filters. Two 24 bit high-fidelity output channel DACs are sampled simultaneously with the input channels and are combined with reconstruction filters for transient-free operation. Each input and output is combined with programmable scaling stages, providing typically 120 dB input dynamic range and less than 100 dB output distortion. A built-in constant current source is included for voltage type (IEPE) accelerometers, a convenient feature that eliminates the need for separate signal conditioning instrumentation. And TEDS (Transducer Electronic Datasheet) interface is available as a software option.
Expandable
The APEX SL controller is available in 4, 8, 12, or 16 channel configurations, while the APEX PRO is available in 20, 24, 28, or 32 channel configurations. Expanding an existing APEX SL or APEX PRO can be accomplished simply by adding the necessary input channel plug-in module to the Controller Box, re-calibrating and installing the new channel count software. Modular software provides the flexibility to add test capability as test needs grow.
Safety & Security
Safety checks are provided in all APEX software to protect against operation beyond shaker system limits and to prevent test initiation without proper control feedback and abort tests that exceed operator defined limits. Password protection allows selectable security in terms of operator access to test modes, test data, and specific test setups.
Advanced Data Storage
Every APEX is configured with network-ready hardware for easy configuration and access with other APEX units, the network server and other network clients. Test data can be stored on the local drive, or the network drive allowing multiple controllers to share setups and test data. In addition, a Stream to Disk feature is optionally available, allowing time waveform recording direct to a 2TB external USB hard drive.
Factory Integrated
All APEX vibration control hardware and software is factory installed, fully integrated, calibrated and tested to ensure quick and successful operation at the user site. An optional calibration kit is available for those customers that elect to calibrate the APEX SL or APEX PRO on-site.