Model T4000 / T5000 / T5500 Series Electrodynamic Shaker Systems

The T4000/T5000/T5500 Series of vibration test systems provide extreme test level requirements. These systems are used in a variety of industries requiring high force output, including satellite, communication, and space launch vibration and PYRO shock applications.
Download T4000 / T5000 / T5500 Bulletin
Features
28,000 lbs - 55,000 lbs

(124 kN - 244 kN) sine force

30,000 lbs - 55,000 lbs

(133 kN - 244 kN) random force

EXTREME performance

Sine – 100 g with 150 lb load
Shock – 100 g with 600 lb load

Induct-A-Ring (IAR) armature
Armature weight with inserts 250, 375 or 385 lbs (114, 170 or 174 kg)
High armature resonance
Combined environment support
25.25 inch (641 mm) diameter armature
2 inch (51 mm) stroke, 3 inch (76 mm) optional (standard on T5500)
Variable Speed Blower option
Multiple base configurations:

Pedestal Base (PB), Heavy Duty Pedestal Base (HPB)
Horizontal Slip Table Assembly (CSTA)

Modular, high-efficiency class D power amplifier
Ultra-rugged, reliable Silicon Carbide (SiC) MOSFET Technology
Induct-A-Ring (IAR)
The Induct-A-Ring (IAR) armature technology is used in the T4000/T5000/T5500 series shaker systems. The unique solid metal armature provides electrical simplicity and mechanical durability benefits (not available with traditional armature designs) that together make the T4000/5000/5500 Series systems the most reliable, high-performance shaker systems in the world.
Induct-A-Ring Features
Solid aluminum armature coil (no multiple windings)
Low weight (250 - 385 lbs) and superior strength
All points at ground potential
No electrical current connections
No cooling water connections
45 stainless steel replaceable inserts
Full rated performance to 2,000 Hz
2 Inch pk-pk displacement standard, 3 inch optional
Rated acceleration 160g sine / to 320g shock
High Reliability
Induct-A-Ring technology has substantially improved shaker armature reliability by combining mechanical durability and electrical simplicity. Most conventional armatures utilize a complicated armature construction of electrical windings, epoxy bonded joints, high amperage flexures (to deliver input power to the coil), and high pressure hoses (to bring cooling water in and out of the coil). Each of these components is subjected to the same vibration and/or shock levels applied to the test specimen. Repeated high level operation often leads to fatigue failures, water leaks, cracked epoxy joints, burned out windings, or voltage breakdown in the coil.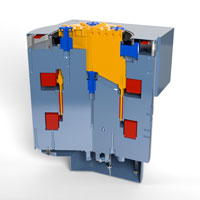 By comparison, the INDUCT-A-RING armature is a simple two-piece metal structure. No electrical current leads or water cooling connections are needed. There are no electrical windings. All points on the armature are at ground potential at all times. There is no possibility of voltage breakdown. No electrical insulation is utilized anywhere in the armature assembly because there is zero voltage potential between any two points on the ring, and between the ring and ground.
Consider an armature consisting of two rigid members bolted together versus a structure made up of an assortment of electrical windings clamps, flexing leads, and hoses. Which design would you expect to deliver 160g sine operation and 320g shock pulses without sacrificing armature reliability? The answer is Induct-A-Ring.
Performance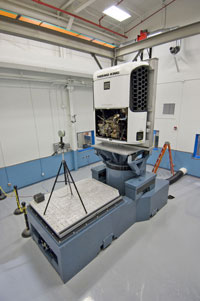 The T4000/T5000/T5500 Series was designed to operate over a wide force range covering moderate to extreme test conditions and accommodating small to large test payloads. Internal pneumatic load support permits automatic armature re-centering for full stroke capability with payloads up to 4,000 lbs (1,818 kg). External load support can augment this capability for very large test packages.
The T4000/T5000/T5500 Series is used in many demanding applications for the automotive, commercial, industrial and military sectors.
Variable Speed Blower
An optional Variable Speed Blower feature is available that automatically controls cooling blower RPM as a function of power amplifier output current (system force). At low test levels and for most shock tests, the blower spins at a significantly reduced rate (if at all), providing a large reduction in power consumption, acoustic noise and air volume extracted from the lab area.
Power Amplifiers
T4000/T5000/T5500 Series systems utilize high efficiency SAI Series class D power amplifiers. These amplifiers are built as complete power centers including EMI shielded console, 3 phase line filtering, full featured control panel, integrated safety interlocks, DC field supply and interconnect cabling with military grade connectors. The amplifiers are completely air-cooled and modular in design, configured from 120 up to 480 KVA. The compact design accommodates up to 120 KVA output in a single bay console.
For installations combined with environmental temperature chambers, a remote interface allows automatic system startup from a single contact closure. All SAI Series amplifiers are direct-coupled to the shaker and require no transformer tap re-connections or special switching circuits to achieve full rated system performance. SAI Series amplifiers are also often supplied as replacements for older style or less efficient amplifiers.
Air cooled, modular 120-480 KVA
Pulse width modulation (PWM) and IGBT technology
Automatic sensing of sine or random drive inputs
Fast-acting shutdown circuitry
>90% efficiency
Adjustable limits
EMI shielded consoles
Input AC power line filtering
Expandable output ratings
Full interlock status for amplifier, shaker and cooling package