High Frequency Vibration Testing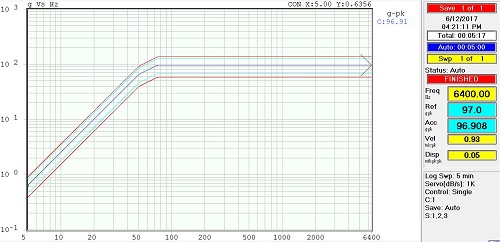 Typical electrodynamic shakers have a usable frequency range up to 2,000-3,000 Hz. For higher frequency applications, UD engineers have developed two different shaker systems optimized for sine & random vibration tests up to 5,000+ Hz. and extreme SRS shock events out to 10,000 Hz.!
H560BAC/2
The H560BAC/2 shaker is the high frequency model from our popular H-Series line of shakers. Paired with a 65 KVA amplifier, the shaker is rated up to 6,500 lbf (28 kN) sine & random with 2 inches (51 mm) peak-to-peak displacement. Available in two different armature sizes, the 13.3 inch (338 mm) diameter version has a upper frequency range of 5,000 Hz. and is capable of acceleration levels up to 123g (1200 m/s2). For larger test items, a 17.5 inch (445 mm) diameter armature is available which can go up to 4,000 Hz.
Customers can choose from all three types of shaker bases including low profile, pedestal or slip table for multi-axis testing. All three base options support combined environment testing and allow simple integration with chambers manufactured by all of the leading thermal chamber companies worldwide. Please contact us for more information.
T208IAR
For smaller test items requiring high frequency vibration tests, UD offers the T208IAR shaker boasting an armature natural resonance at 5,800 Hz.! With an armature weight of only 31 lbs (14.4 kg), sine & random acceleration levels are achievable up to 97g and out to 6,000 Hz. Extreme SRS shock testing to 10,000 Hz. is also possible. Typically configured with a 65KVA amplifier, the T208IAR can be paired with a 240KVA or larger amplifier for extreme level shock events. Click here for more info on the T208IAR high frequency vibration test system.
Meet Your High Frequency Vibration Testing Needs
With six decades of experience making the world's most trusted vibration test equipment, Unholtz-Dickie can help your company achieve demanding high frequency vibration tests previously thought unattainable. Please contact us to speak with an Applications Engineer about your test requirements.