Space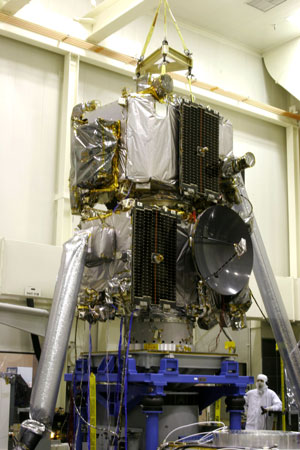 Vibration and mechanical shock tests are key ingredients in the engineering development process for space hardware systems. Hardware design margins must anticipate the extreme operational environments that these often massive, large geometry payloads must tolerate during their service life. These severe dynamic environments include:
Random vibration from rocket engine and aerodynamic inputs
Low frequency rigid body stress at structural joint interfaces, and
Transient shock events during launch and staging.
UD performance advances in electrodynamic shaker system design now make it possible to realistically simulate these dynamic environments in the test lab. UD's Model T2000 shaker, with its 3-inch pk-pk stroke (76 mm) Induct-A-Ring armature, provides extreme-level vibration and shock test capability. In combination with available power amplifiers rated up to 720 KVA output, the T2000 produces staggeringly high acceleration and velocity output. Specific breakthrough performance examples include:
154 g rms random on a 16 pound (7 Kg) load
100 g peak sine on a 140 pound (64 Kg) load, and
135 g peak / 11 milli-second half-sine shock pulse on a 400 pound (182 Kg) load.
UD's customers in the space industry include:
SpaceX
Boeing
Lockheed Martin
SEAKR
Custom Microwave
Astrium
Blue Origin
United Launch Alliance
Virgin Galactic
General Atomics
NASA
Tesat
ITT Space Systems
SAFT
Orbital ATK
MIT Lincoln Labs