Aviation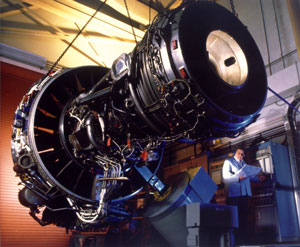 Numerous companies supplying hardware to the aviation industry rely on quality, high-performance vibration test equipment from Unholtz-Dickie. Test requirements include those from military standards such as MIL-STD 810, and DO-160, which is primarily used to test the design of avionics electronic hardware in commercial aircraft. Companies may also need to meet requirements from specific aircraft or aircraft engine manufacturers.
Aviation products tested include:
Electronics
Engines
Avionics boxes
Cockpit displays
Oxygen systems and masks
Entertainment systems
Seats
Entire airframes
One test example common in the industry is turbine engine blade testing. High cycle fatigue testing on engine blades is critical, especially for engines used on aircraft, since a blade failure in flight could be catastrophic. UD's Model T208IAR, with its high-frequency Induct-A-Ring armature (up to 10khz), was designed specifically for blade test applications. Used in conjunction with the UD Apex SL Resonance Dwell (RD) software, design engineers can quickly verify fatigue characteristics by operating at the blade's natural frequency. The RD software allows tracking of the blade's resonance even as it drops due to mechanical fatigue.
This powerful capability is used by companies including Pratt and Whitney, GE Aviation, Heico, Rolls Royce, MTU Aeroengines, Eaton, and MBDA.