Automotive Vibration Testing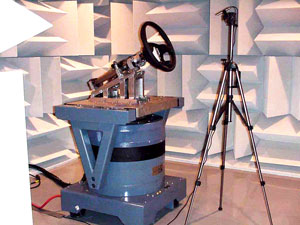 Vibration testing plays an important role during vehicle development, and often times testing continues throughout production. Vibration testing allows engineers to characterize the effect of long-term, road-induced vibration and shock on the performance and service life of automotive systems, sub-systems and vehicle/engine components.
UD shaker systems perform these environmental tests, with the intent to qualify the vibration durability of the part under test or identify design deficiencies that must be corrected.
Typical parts tested using UD vibration shakers include:
Alternators and Starters
Exhaust Gas Recirculation (EGR) Valves
Fuel rails
Air bag sensors and hardware
Throttle bodies
CV Transmissions
Instrument panels
Consoles
Engine control units
EV Batteries
Exhaust systems and Catalytic converters
Inverters
UD's customers in the automotive industry include:
Ford
General Motors
FCA
Audi
BMW
Robert Bosch
Valeo
Hitachi
TRW
Borg Warner
Delphi
Ferrari
Denso
Continental Automotive
Johnson Controls
Autoliv