Model S452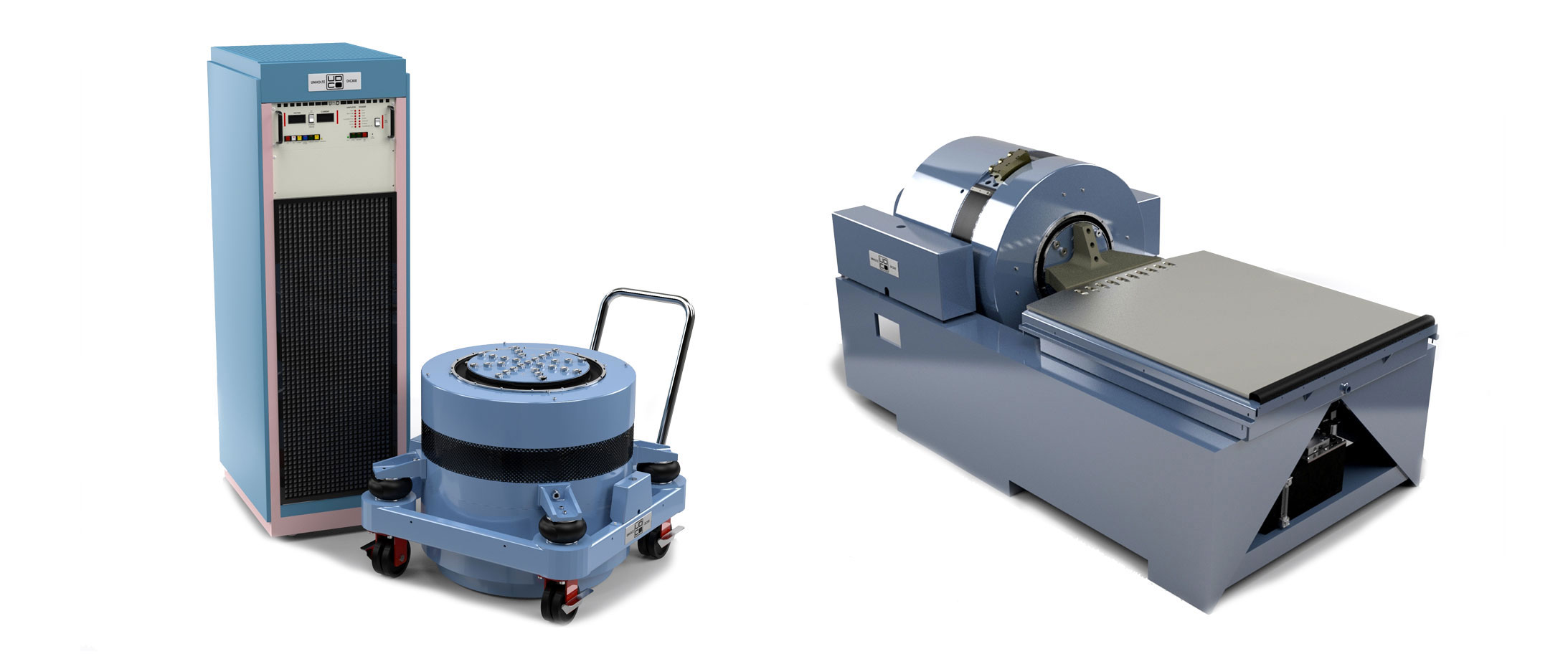 The S452 Series provides an intermediate force range of vibration test systems consisting of the SAI Series Class D power amplifier with ultra-rugged Silicon Carbide (SiC) MOSFETS, the S452 electrodynamic shaker, Integrated DC field supply, remote cooling blower and isolated base configurations to provide vibration isolation to building surroundings. Systems also include an EMI shielded console with 3-phase line filtering, interface cabling, integrated safety interlocks, and full featured interface panel for the power amplifier. All systems are direct coupled for maximum rated performance and require no transformer re-connections or switching circuits. The performance of the S452 Series supports a wide variety of vibration test applications including product development and design conformance, qualification and certification, and production screening.
Features
Max force 4,500 to 6,000 lbf (20 to 26.7 kN) depending on configuration
Lightweight, High Strength Armature
200 g shock
2 inch (51 mm) displacement
800 lbs (364 kg) internal pneumatic load support
High armature resonance
Two armature sizes available


S452-12: 13.3 inch (338 mm) diameter / 50 lbs (22.7 kg)
S452-16: 17.5 inch (445 mm) diameter / 60 lbs (27.2 kg)

Completely air-cooled
Modular, high-efficiency Class-D SAI series power amplifier
Ultra-rugged, reliable Silicon Carbide (SiC) MOSFET Technology
Combined environment support
Optionally available "Quiet Mode"
SA-Command Link APEX SL / amplifier remote interface
Air Cooled:
All of the S452 Series configurations are totally air cooled, an important feature that reduces the cost of installation and operation. Both the SA Series power amplifier and the S452 electrodynamic shaker are cooled by forced air. Quiet mode circuitry and sound enclosures for the blower are available for Buzz, Squeak & Rattle applications.
Rugged, Lightweight Armature:
Cast from a high strength magnesium alloy, the S452 Series armature incorporates a multi-ribbed table for maximum stiffness and minimum weight. The construction and low weight of this armature provides a level of versatility unmatched in the industry and is ideal for applications requiring high g level testing, on moderate to heavy sized payloads.
2 inch (51 mm) Displacement:
The S452 Series shaker is rated for 2 inch pk-pk displacement, a requirement for many of today's transportation and long pulsewidth shock tests.
Internal Load Support:
800 lbs (364 kg) internal pneumatic load support including automatic armature centering is provided as standard with an optional configuration for 1,000 lbs (454 kg).
Combined Environment Testing:
All three base configurations for the S452 support combined environment testing and are easily integrated with environmental temperature chambers. Low profile base configurations include casters and optional track and handle to allow for easier movement. Thermal barriers, an oil conditioning system for the slip table, and remote system start-up from an external contact closure are available. The optional SA Command Link for the Apex SL controller provides a remote on-screen command/status panel to startup and monitor the amplifier/shaker system operation.
Industry Applications:
The S452 Series vibration test systems are employed in several major industries for testing a variety of different products. Typical test applications include development and screening of electronic hardware such as circuit boards, relays, filters, power supplies, receivers, transmitters, portable computers, disk drives, CD drives, printers, monitors, cellular phones, pagers, and other computer and communication products. In the automotive industry the S Series is used for testing components such as alternators, starters, batteries, instrument clusters, ignition switches, engine and suspension components.