Word Report Generator
The Automatic Report Generating Utility is now included with each new APEX SL or APEX PRO Vibration Control System. This highly desirable feature provides an automatically generated test report in an MS Word document.
The structure and content of each document is custom-tailored in an easy-to-use configuration template.
Multiple templates can be created and then selected based on the test type or test user preference, for example.
Once the report is created, it can be edited, saved, printed or sent as an attachment file via email.
This capability allows test professionals the flexibility to streamline test data processing and helps to produce consistent and accurate test reports.
Sample Test Report
RANDOM TEST REPORT:
SETUP NAME: TEST
SETUP DESC: Vertical Test Axis
SETUP COMMENTS:
RUN NAME: vert2
SAVE NUMBER: 1
STATUS INFORMATION:
TEST EVENT TIME: Wednesday, August 03, 2016 at 04:00:53 PM
TEST STATUS: RUNNING
TEST MODE: AUTO
TOTAL TIME ELAPSED (HH:MM:SS): 00:45:28
AUTO TIME ELAPSED (HH:MM:SS): 00:44:18
TEST LEVEL: 0.0 dB
REFERENCE: 9.94 g rms
CONTROL: 10.01 g rms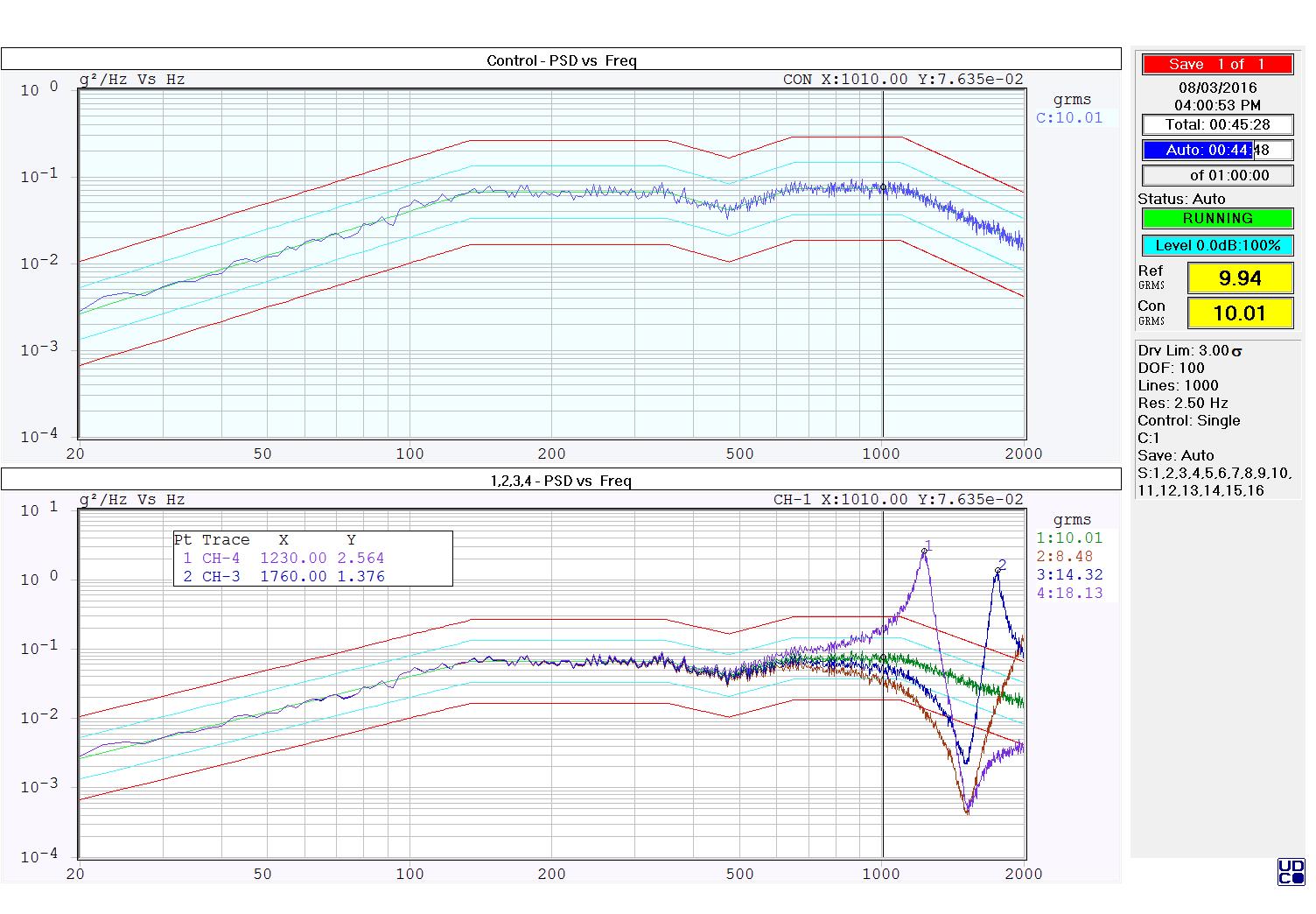 BP
#
Freq
Hz
Level
(g²/Hz)
Slope
(dB/oct)
Alarm -
(-dB)
Alarm +
(+dB)
Abort -
(-dB)
Abort +
(+dB)
1
20.00
0.002656
-3.00
3.00
-6.00
6.00
3
135.00
0.066396
-3.00
3.00
-6.00
6.00
4
350.00
0.066396
-3.00
3.00
-6.00
6.00
5
475.00
0.041483
-3.00
3.00
-6.00
6.00
6
500.00
0.078512
-3.00
3.00
-6.00
6.00
7
520.00
0.078512
-3.00
3.00
-6.00
6.00
8
550.00
0.0200000
-3.00
3.00
-6.00
6.00
9
800.00
0.0200000
-3.00
3.00
-6.00
6.00
10
1000.00
0.0040000
-3.00
3.00
-6.00
6.00
11
1200.00
0.0040000
-3.00
3.00
-6.00
6.00
12
2000.00
0.0600000
-3.00
3.00
-6.00
6.00
Accel: 9.94 g rms, Est. Vel: 6.67 in/s pk, Est. Disp: 0.385 in pp, Ref. Disp: 0.0336 in pp
CONTROL PARAMETERS
CONTROL CHANNEL(S): 1
CONTROL TYPE: SINGLE
FREQUENCY RANGE: 2500 Hz
NUMBER OF PSD LINES: 1000
FREQUENCY RESOLUTION: 2.50 Hz
DOF: 100
SIGMA DRIVE LIMITING: 3
ALARM/ABORT PARAMETERS
NUMBER OF CONTROL LINES TO TRIGGER ALARM: 30
NUMBER OF CONTROL LINES TO TRIGGER ABORT: 40
MAXIMUM DRIVE RMS VOLTAGE: 2.50 vrms
CONTROL/CHANNEL RMS ABORT LIMITS
CHAN
#
Type
dB/RMS
Min
-dB/RMS
Max
+dB/RMS
Control
dB
-0.75
0.75